Great space to fit the size of your ideas.

In TOKAL BUSINESS CENTER we know how important it is for enterprising, micro, small and medium-sized companies to have a space for conferences and trainings for their customers, so we have a multidisciplinary room in which you can implement seminars, presentations, courses, launches and important meetings to keep your business on track for success.
WE OFFER:
Capacity up to 100 people
Wireless Internet
Projector
Sound system
Coffee break service
Food Service
Private parking
24 hrs security
Air conditioning
Furniture arrangement according to the event
Set Up
Every event is unique and it may present a variety of specific needs. In order to cover them, we can provide a wide variety of set ups that are adapted to fit in every event.
Event Assembly Types:
DOWNLOAD PDF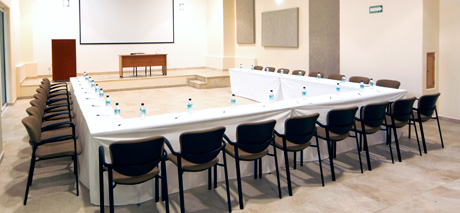 SITTING ARRANGEMENT

The Horseshoe shape arrangement allows participants to interact closely with all the members of the event. it facilitates discussion and promotes both interpersonal as well as non verbal communication. it is available for small groups; if the group is larger than 20 people, it is advisable to have a different sitting arrangement.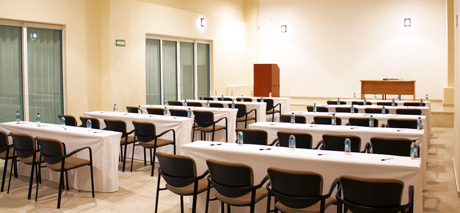 CLASSROOM

The interaction between the speaker and the audience is essential in order to achieve goals in meetings, workshops or trainings. That is why our multipurpose room can be changed into a classroom according to their objectives. Having long tables in the room allows note taking and the participants can clearly see any person in the room or visual presentation projected on screen.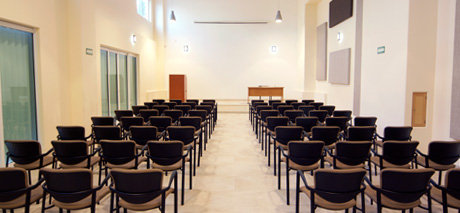 AUDITORIUM TYPE

It is perfect for attracting people's attention and it allows the speaker to captivate the audience more effectively. It is deal for conferences, seminars, product launches and trainings.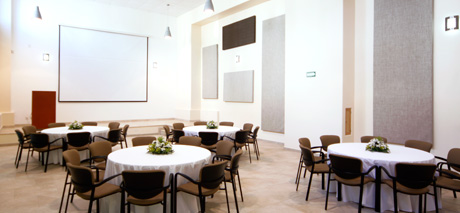 PARTY FURNISHINGS

It is perfect for social and academic events, presentations, awards, cocktail parties, launches, openings, galas, breakfasts, benefit parties and anniversaries.